I want to help my family get to the 18p- conference this year so I am selling love cards. You pass the cards around to spread the love! On the back you can add your own messages. (My mom helped me write this post.)
My family (Team TLC) attends the Chromosome 18 Registry conference every year. My sister, Lillian, has a chromosome abnormality called 18p-. This conference is an opportunity for us to be with other families who have a family member with a chromosome 18 abnormality and learn about the latest research.
It's important to me to attend the conference because I am friends with Lillian's peers and because I get to talk and share with other siblings. I participate in the sibling panel and I think it's so important and helpful.
I want to help pay for our hotel room this year. It's $169 night! So I decided to use a bookmark design that I submitted for a bookmark contest. I won runner up!
In June 2014, I mailed myself a letter through the U.S. mail. My mom, Camilla, said I sent myself a "love letter". Ever since then my mom has been wanting to use the love letter idea in a way to spread love to others.
So, we designed a small two sided card for people to use when they spread a random act of love to another. One side let's the receiver know that they have just received a random act of love and the other side has my bookmark art with space for the giver to write a personal message.
Use these cards to spread love and there's room on one side to write a custom message. Maybe one day it will come back to you!
First, these cards are to encourage more people to spread kindness and love and second, for more people to be mindful and notice when they have been the recipient of kindness and love.
My mom feels that sometimes we get so caught up in our thoughts that we don't notice an opportunity to spread love and don't notice when someone has shared love and kindness with us.
They can be used to simply pay someone a compliment, pick up the tab for another, give an extra big tip, leave on a windshield with an encouraging note, and for any other acts of love and kindness that you can imagine.
These cards will continue to be for sell after the conference too. My sister is selling prints of her artwork to help with the conference too! Also, my mom is selling prints of her Heart Art.
One Side: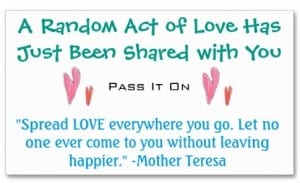 Other Side: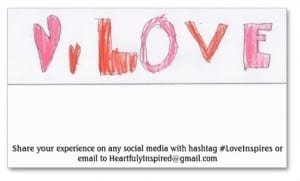 Now for the fun part! You get to choose the price you pay. My mom actually prefers to call it a "love offering". YOU choose your love offering! ($5.00 will be added to the love offering for shipping & handling.) You will receive 20 (twenty) cards with which to spread love. They are standard business card size.
**If you choose an extra generous purchase option, we will spread the love by gifting cards to others and spreading financial acts of love.