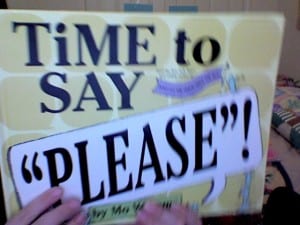 Time to Say "Please"!
(amazon affiliate link)
by mo willems
copied by thomas – I like this book so much because it is a happy book.
if you ever really want something,
really really want something, don't just grab it!
go ask a big person and please say "please"!
there are all kinds of reasons to say "please". when you want a turn.
When you want a toy, or to borrow someone's truck.
When you want  to try something for the first time.
And when you want to stop!
But that's not all! "Excuse me!" can come in handy.
And "sorry" is useful. (But you have to mean it!)
"Please"  isn't hard to say. Just try it!
May I have a cookie please?
You may not get what you want. But  it's hard to say "no" to "please."
Oh, and big people love to hear "Thank you."
You can never say "please" too often.
The End